Compact Speaker Microphones
Light Duty Remote Microphone is designed for the sporting, special event, casino, and hospitality industries. It is compact, yet durable with a Kevlar reinforced polyurethane cable. You'll get positive tactile feedback when actuated and crystal clear two-way transmissions from our quality Knowles microphone. In addition, it is available with option of noise-cancelling acoustics. The 360 degree clip click stops every 45 degrees for precise and secure placement. It comes with a 3.5mm audio output jack for listen only applications.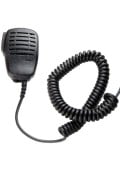 BIG SOUND FROM A COMPACT MICROPHONE. PRODUCT FEATURE IP54 Rated Dust&..
$50.00
Showing 1 to 1 of 1 (1 Pages)