Listen Only Earpieces
The listen only earpiece is for receive-only. It allows the radio user to privately receive messages. It's ideal when the the mission requires discreet one way, crystal clear communication. We offer choice of 26" or 14" cable, and the option of 3.5mm or 2.5mm connector.
G30 Ear Hook Listen Only Earpiece is a single-wire, receive-only earpiece available with either..
$45.00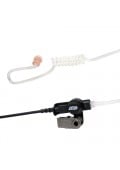 The T20 Series Surveillance Listen Only Earpiece receive-only earpiece allows the radio user to priv..
$47.00
Showing 1 to 2 of 2 (1 Pages)